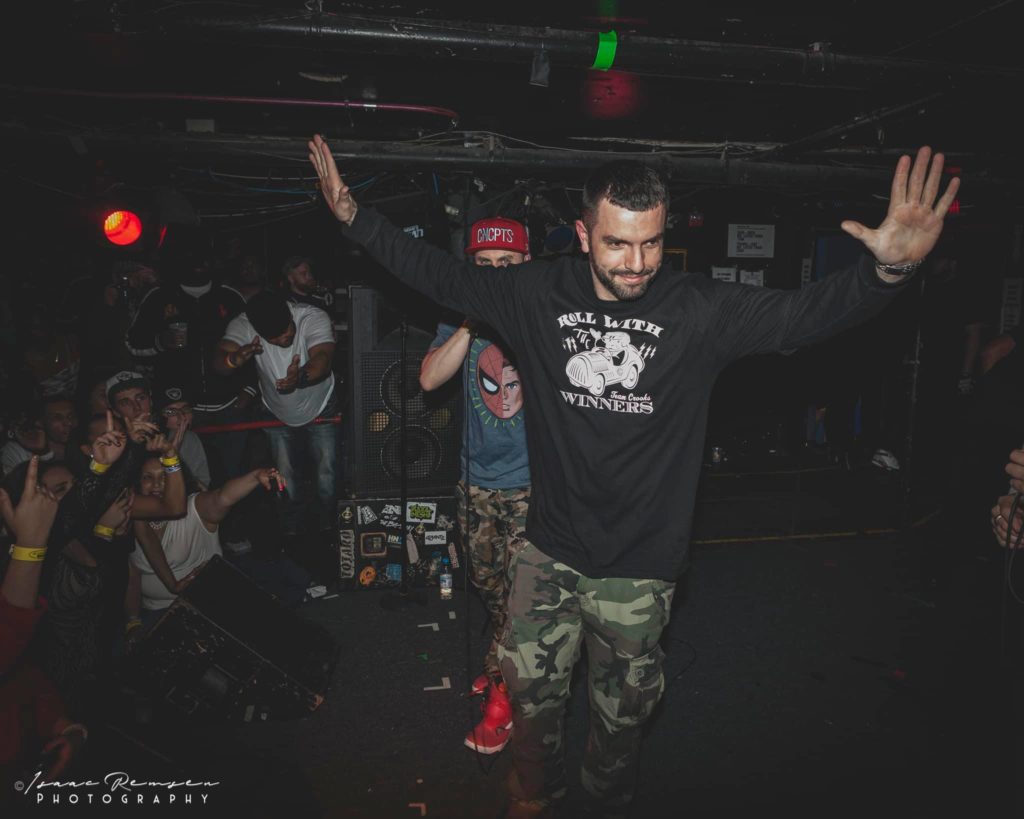 Leedz Edutainment has grown into an impeccable, unparalleled platform for Hip-Hop artists who either reside in or come through New England. Over the years, CEO Ned Wellbery aka Leedz has worked painstakingly to showcase artists on stage and in the studio, with the latter coming in the form of acclaimed albums, mixtapes, playlists, podcasts, and compilations. "Ive always had a strong passion for creating and marketing music. Being a fan first, its something that comes natural to me" says Ned.
Ned Wellbery was born and raised In New England between Georgetown Massachusetts and Sandown New Hampshire. He was subjected to music at a young age with his Jazz drumming grandfather and mother being a big fan of folk music. They taught him the importance of lyrics and the power of the beat. But as a child, he fell victim to tragedy when his dad disappeared at the age of twelve. Leedz then found himself struggling with insecurity, anger, and fitting in. This is where he found the love for Hip Hop.
"I can remember the day so vividly. My neighbor played Ice Cube's "Death Certificate" and Public Enemy's "Apocalypse 91″ and I was instantly hooked. I was into Rock music at the time but I was blown away by Hip Hop's rawness and subject matter. I realized that rap was the official voice of the struggle because they were talking about situations I could relate to and the beats were banging!!" says Ned.
He soon began studying the culture compulsively. Gang Starr, Wu Tang Clan, 2Pac, Ice-T, NWA, House of Pain, Cypress Hill, Nas, Notorious B.I.G. and many more became huge influences. Leedz soon invested in turntables and became a DJ. As he became more musically driven, he was able to secure work DJing parties and clubs in NH. But in a scene that was too mainstream and five years of the wrong hustling eating at his soul, It was time for a new plan.
In 2001, Leedz enrolled at Northeastern University in Boston, Massachusetts and majored in music business. Within the first six months of being at NU, he landed an internship with the number one Hip Hop guerrilla marketing company, Metro Concepts.
"They taught me more in three months then I learned in 3 years of being in school."
But Leedz struggled to find his niche. Record labels were failing due to illegal downloading and there were no available jobs. The music Industry was getting worse and worse and by 2004 most of the local underground Hip Hop scene was at a standstill. This is where he found his first role.
There were not many people throwing events at this time. No one wanted to do them because they were failing financially and extremely stressful. He then decided he would become an independent promoter and founded the company Leedz Edutainment. He threw his first event in April of 2004 at the Middle East Nightclub in Cambridge MA with Royce Da 5'9, Cunninlyguists, Tonedeff, & more. With everyone urging him NOT to do it, he soon became one of the biggest independent promoters in Boston.
Since then he has been responsible for booking major acts such as Kendrick Lamar, Logic, G-Eazy, Machine Gun Kelly, Wu Tang Clan, Talib Kweli, Schoolboy Q, Wiz Khalifa, Yelawolf, EPMD, A$AP Rocky, Mac Miller, Mobb Deep, Brockhamptom, Hopsin, Joey Bada$$, Slaughterhouse, DJ Premier, Pete Rock, Geto Boys, Action Bronson, Lupe Fiasco, Sean Price, and many many more. From there he worked himself up the ladder by becoming a talent buyer and general manager of the Middle East Nightclub overseeing the entire operation.
In between promoting shows and working at the Middle East, Leedz also became a music producer and artist manager overseeing twenty plus project for artists such as La Coka Nostra's Slaine, Rite Hook, XL The Beast, and Blak Madeen as well as making his own albums and compilations "A Worker Among Workers", "Eastern Standard", and "Mass Movementz". In 2020, Ned decided to launch The Leedz Edutainment Podcast featuring in-depth interviews with people in Hip Hop culture.
Leedz Edutainment is close to celebrating twenty years of being in business and the company has recently expanded into a full service Hip Hop entity offering a broader range of services including Marketing/Promotions, Artist Development/Management, Digital Marketing, Social Media Strategy, Project Management, Branding, Publicity, Consulting, and more. In a region that struggles to find its Hip Hop identity and a industry that's constantly changing, Ned Wellbery a.k.a. Leedz, has become a staple in the New England music scene.
"I told myself in the beginning as long as I give this 100 percent i'll be OK with the outcome, win or lose," says Leedz
ACHIEVEMENTS/AWARDS:
Nominated "Promoter of the Year" – Boston Music Awards (2020,2021,2022,2023)
Nominated "Music Video Of The Year" "Massive"- Boston Music Awards (2022)
Nominated "Promoter of the Year" – Boston Music Awards (2017)
Nominated "Best Live Music Venue" – Middle East Nightclub – Boston Music Awards (2017)
Boston Phoenix article "Hard To Earn" (2014)
Boston Herald article "Boston Busts A Move" (2007)
Promoter of the Year (Winner) – Boston M.I.C. Awards (2006)
Boston Herald article "Dynamic Duo" 2006
Leedz Edutainment Promoted Events:
WU TANG CLAN
KENDRICK LAMAR
DJ PREMIER
GETO BOYS
SCHOOLBOY Q
NONAME
MACHINE GUN KELLY
WIZ KHALIFA
YELAWOLF
A$AP ROCKY
SEAN PRICE
DANNY BROWN
ACTION BRONSON
MAC MILLER
RJD2
EL-P
RAYVN LENAE
MOBB DEEP
A$AP FERG
WESTSIDE GUNN
JOEY BADA$$
SLAUGHTERHOUSE
PETE ROCK & CL SMOOTH
LUPE FIASCO
CLIPSE
THE L.O.X.
CAMRON
ONYX
WARREN G
RAEKWON THE CHEF
GOLDLINK
VINCE STAPLES
RAPSODY
KRS-ONE
DEL THE FUNKEE HOMOSAPIEN
LA COKA NOSTRA
COOLIO
JOE BUDDEN
SNOH ALLEGRA
MIGOS
RA THE RUGGED MAN
J.I.D
ROYCE DA 5'9
RED + METH
IMMORTAL TECHNIQUE
EVERLAST
APATHY
HOPSIN
CZARFACE
CHRIS WEBBY
HOODIE ALLEN
EPMD
BRAND NUBIAN
CONWAY THE MACHINE
BONE THUGS-N-HARMONY
SCARFACE
MADLIB
REJJIE SNOW
UNDERACHIEVERS
G-EAZY
LIL PEEP
STL GLD
BLACKBEAR
BIZARRE RIDE II THE PHARCYDE
CURREN$Y
TALIB KEWLI
SNOW THA PRODUCT
FREDDIE GIBBS
BIG K.R.I.TLLOYD BANKS
ARI LENNOX
KOOL KEITH
RITE HOOK
FLATBUSH ZOMBIES
BOOT CAMP CLIK
CAPONE N NOREAGA
ALOE BLACC
GZA
BENNY THE BUTCHER
JAY ELECTRONICA
JADEN SMITH
GHOSTFACE KILLAH
JAYROCK
PARTYNEXTDOOR
LOGIC
EDO.G
BRAND NUBIAN
WISE INTELLIGENT
WATSKY
SPOZE
AZ
WAKA FLOCKA FLAME
9TH WONDER
BUN B
PHAROAHE MONCH
AB-SOUL
TORY LANEZ
BROTHER ALI
SNOWGOONS
JADAKISS
KOOL G RAP
CUNNINLYNGUISTS
MICK JENKINS
ODDISEE
M.O.P.
SKEPTA
KEVIN GATES
CORMEGA
DENZEL CURRY
PEOPLE UNDER THE STAIRS
LIL UZI VERT
MASTA ACE
21 SAVAGE
RAKIM
PRODIGY
HIEROGLYPHICS
STYLES P
SABA
BROCKHAMPTON
INJURY RESERVE
SAGE FRANCIS
KOTA THE FRIEND