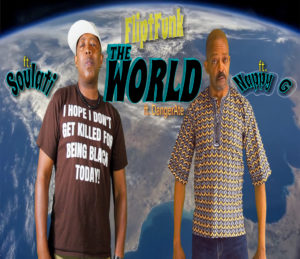 FliptFunk is a collaboration of two OG emcees Gordon "Nappy G" Clay & Tommy "Soulati" Shepherd who are also both world class drummers/percussionists. Both have toured internationally and have delighted the senses of music lovers around the world. Soulati won his first Grammy after being nominated three years in a row for for best Children's Record with his group Alphabet Rockers. Nappy was one of the cats who helped to ignite the NYC music scene in the 90s that saw a confluence of Jazz, Funk, and Hip Hop with a good measure of Afro Latin Rhythms mixed in. With Groove Collective, he toured nationally and internationally and scored two instrumental hits. FliptFunk will shake your behind and turn on your mind with dope lyrics and powerful beats.
Their first single, The World, Featuring DangerAte is live SoundSystem, grooves, horns, singing, beats, and rhymes. They have joined their talents together with Daniel The D3 Cohen, a young producer and multi-
instrumentalist from San Francisco along with his up-and-coming JazSFunk ensemble DangerAte."Its a call to action for us to stop living life on autopilot, to take charge of our destiny by embracing our true higher selves, to listen more, and most importantly, to not let the system control our minds. Plus it's Funky AND it rocks!!" says Nappy G. "If you don't try to change the world, the world will try to change you" says Soulati. Check it out on YouTube and your preferred digital streaming provider.
---