Hip Hop is always the best at making the most of a bad situation and tonight was the perfect example. Producing giants DJ Premier (Gang Starr) and Rza (Wu Tang Clan) brought their A games with beats to a battle for the ages called Verzuz brought to you by Timbaland and Swizz Beats on IG Live
Before they started they reminisced about the early days before Wu Tang, their friendship, and competitive nature during the 90s. After a little retrospect it was time to get busy! It started with Rza having some technical difficulties with I-rig delays and sound quality in his living room but the bugs slowly got worked out "Bong Bong"
Rza set it off with Liquid Swords by the Gza which is an instant classic. Primo followed with A Million Questions by Jay-Z. Rza stated "You went platinum on me". The two continued to trade joints as the followers kept messaging who was winning. The strong opinions of every head was a content debate on IG and group texts across the world. Names like Fat Joe, Black Thought, Timbaland, Erick Sermon, Masta Ace, Jay Electronica, Benny The Butcher, Lil Jon, T.I., Method Man, Snoop Dogg, and every one else in Hip Hop was signed in. The total number of people logged in seem to max out around 192k at once. Premier would go on later to post that there was 849,056 viewers in total for the night..
As the two went back and fourth it brought back more and more memories about how the songs were crafted. Rza seemed to be more prepared with his playlist as Premier more improvised based on the abbots selections. 10 songs in it was clear that this was gonna be a nail biter as Rza played mainly Wu Tang Classics from 93-2000 and DJ Premier dug a little deeper from 91-99. "We got timeless joints" said DJ Premier. The highlight seemed to be when Rza dropped Long Kiss Goodnight by Notorious B.I.G. and Primo retaliated with Above The Clouds by Gang Starr and both comedically pulled guitars out as props.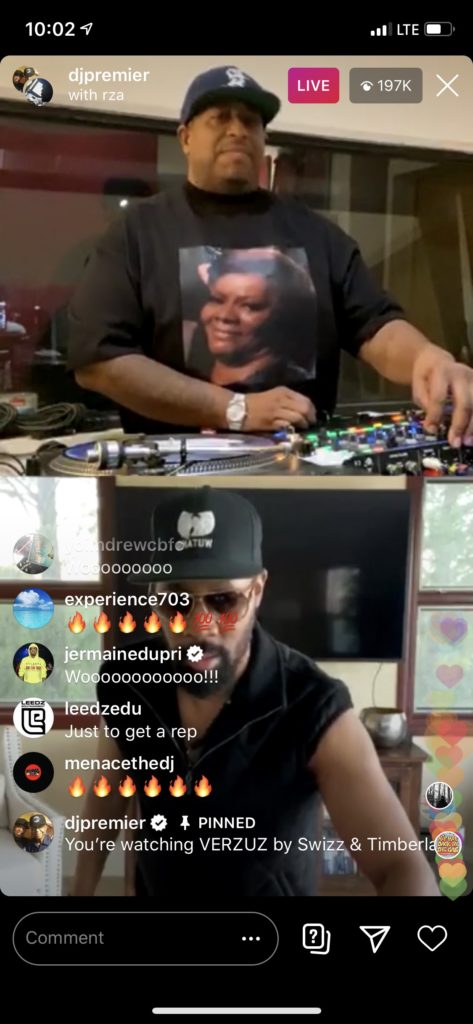 Heres how the sets went:
Rza Set
Liquid Swords-Gza
Bring The Pain-Method Man
Maria-Ol' Dirty Bastard
Wu Gambinos-Raekwon
Run-Ghostface
Shame on a ni%%a–Ol'Dirty Bastard
Proteck ya neck–Wu Tang Clan
Cold World–Gza
M.E.T.H.O.D.-Method Man
Motherless Child-Ghostface
Verbal Intercourse-Raekwon & Nas
Buck 50-Ghostface & Method Man
Ice Cream-Raekwon
Brooklyn Zoo-Ol' Dirty Bastard
Shimmy Shimmy Sha-Ol' Dirty Bastard
Long Kiss Goodnight-Biggie Smalls
Assasination Day-Ghostface Killah
Criminology-Raekwon and Ghostface
Incarcerated Scarface–Raekwon
All I Need Remix-Method Man
C.R.E.A.M.-Wu Tang Clan
Wu Tang Clan Aint Nothin to F' Wit-Wu Tang Clan
Dark Fantasy-Kanye West
Triumph-Wu Tang Clan
Tanasia-Nas
Its Yourz-Wu Tang Clan
Gravel Pit- Wu Tang Clan
A Better Tomorrow-Wu Tang Clan
New Day-Kanye West & Jay-z
DJ PREMIER SET
A Million questions-Jay-Z
Breaking The Rules-M.O.P.
Mathematics-Mos Def
The Enemy- Big L
MC Act Like They Don't Know-Krs-One
Real Hip Hop-Das Efx
Devils Pie-D'angelo
Just To Get a Rep-Gang Starr
Livin' Proof-Group Home
D'evils-Jay-z
Nas is Like-Nas
The Question Remains-Gang Starr
Come Clean-Jeru The Damaja
Kick In The Door-Biggie
Above the clouds-Gang Starr
NY State Of Mind-Nas
DWYCK-Gang Starr
Boom-Royce 5'9
10 Crack Commandments-Biggie Smalls
Mass Appeal-Gang Starr
Crooklyn Dodgers 95-Chubb Rock, O.C., Jeru The Damaja
Classic-Kanye West, Nas, Krs One,

Rak

im
Represent-Nas
Friend or Foe-Jay-Z
Still Ghetto-Jay-Z
Aint No Other Man-Christina Aguilera
I Gave You Power-Nas
As the night winded down Swizz beatz and fans kept telling them keep playing. Why Not? Where we gonna go in a quarantine? Since Rza was in his living room he responded "My wife might shut me down". After the 20 joints each, they agreed to keep going digging deeper into their catalogues. Rza refreshed everyones memory with his co production on Kanye West "Dark Fantasy" and threw haymakers with Triumph and Its Yourz. Premier held his own jabbing back with Classic, Represent, Still Ghetto and Aint No Other Man. Finally Swizz flicked the light switch and they closed with Wu Tang's "A Better Tomorrow" and Nas "I Gave You Power". They then took the time to thank all the mothers of the world and dedicated the last song "New Day" by Kanye West and Jay-Z to all the fathers out there claiming that fatherhood has improved with their generation. In the end, DJ Premier got a text and said "The winner of the night was Hip Hop".