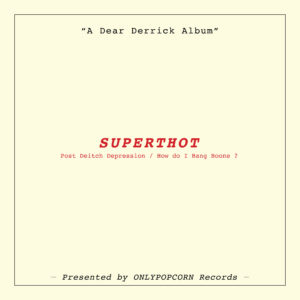 Derrick B. Harden, Dear Derrick, was born and raised in Brooklyn where he humbly built his rep and moved to becoming one of the first from the
neighborhood to bring back opportunities found in the art and music
communities. He's done work for H&M & Diesel in visual merchandising, PR & marketing with the Chelsea Art Museum, Wu-Tang Brand, and The Harold Hunter Foundation. In addition has taken the role of Assistant Director & Curator for a few of NYC's elite art galleries including The Hole, Lyons Wier Gallery, Gallery 151 and Damon Dash's, and Poppington. His music has charted on the NACC Chart, Rapattacklives.com, Urban Network and more!!
His latest thrilogy album Superthot:Post Deitch Depression/ How Do I Bang Boone? is an abstract view on simple but serious subjects. "The concept is about the black person being the global prostitute and starting the conversation" says Derrick. The Do Yourself A Favor visual was filmed on a New Years Eve trip with the director and actress of HBO's Betty and was featured on the show. "Its literally me figuring out how to be mundane and do nothing in a music video" says Derrick. The 17 track project is entirely produced by Kool Keith's cousin Live Seven "Marc Live" Pro- Syndicate.
Check it out now on your preferred digital streaming provider via ONLYPOPCORN RECORDS.
---